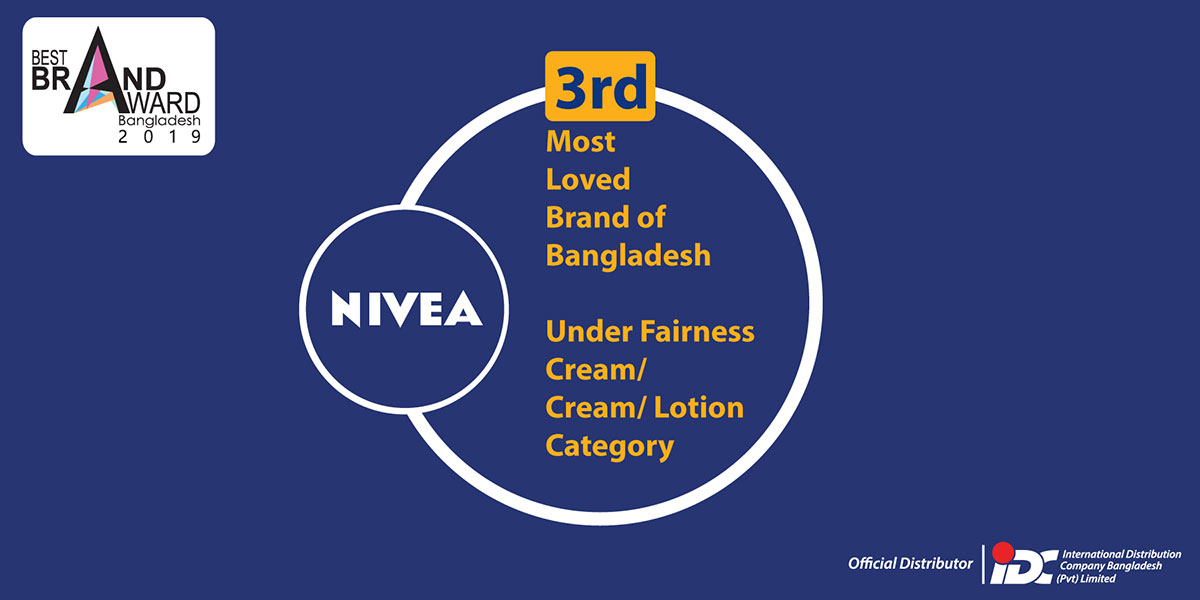 Nivea recognized as 3rd Most Loved Fairness Cream, Cream, Lotion Brand 2019 in Bangladesh
December 08, 2019 I Dhaka Bangladesh: Nivea has been recognized as the 3rd Most Loved Fairness Cream, Cream, Lotion Brand 2019 in Bangladesh at the 11th Best Brand Aawrd, 2019 held at December 08, 2019 at a city hotel. The award ceremony was organized by Bangladesh Brand Forum (BBDF), in partnership with Neilson Bangladesh. Best Brand Award is awarded based on an independent research conducted by Neilson Bangladesh among 4,000 consumers across the country though Neilson's global research model (Winning BrandsTM).
NIVEA is a German personal care brand, owned by the Hamburg-based company Beiersdorf Global AG. When NIVEA Creme was launched by Beiersdorf in 1911, it revolutionized skin care as the first stable oil-and-water-based cream in the world. Nivea Crème became an immediate success and based on growing and changing consumers demand, product line was extended to lotion, Men care, deo, sun protect, shower, and many others. Today, NIVEA products are available in 173 countries and are the market leader in the skin care segment in more than 45 countries.
Nivea is a heritage brand in Bangladesh loved by the Bangladeshi consumers for spreading care and comfort to skin in its signature blue tin can. Nivea understands consumers skin like none else. This deep understanding of skin care is derived from its core values: Care, Simplicity, Courage & Trust. Nivea product are all about care. Nivea product details, packaging and communicate are all focuses on care feature in the most simplistic way for the consumers to understand so that consumers can easily trust on the products and the brand. Nivea has expanded from winter only products, to skin care products for all the year around. That's how Nivea has own over the consumers.
Nivea started its official business in Bangladesh through trading. International Distribution Company Bangladesh (Pvt) Limited, IDC, is the current Authorized distributor of Nivea products in Bangladesh since 2015. Previously, Nivea only serviced the market with 10-15 SKUs; and since partnership with IDC, Nivea took a courageous step and increased the product line into more than 100 SKUs for the Bangladeshi consumers. Nivea business has grown considerably since then in terms of volume and distribution coverage.
The consumer engagement approach for Nivea in Bangladesh is mainly trade marketing based. Nivea maintains a strong presence at the customer purchase points through proper and innovative merchandising. The presence of Nivea in Modern Trade outlets is outstanding and has been cited as global example for other countries as well. With its dedicated Beauty Advisor team, Nivea works towards not only promoting Nivea products, but also making the consumers aware about skin care routine and needs. In addition to the retail and wholesale market, Nivea is equally sought after in ecommerce platforms.